HostGator Alternatives, Part 2: Who to Use and Why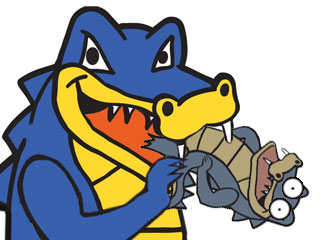 Once upon a time, there was a miserly hosting company that was jealous of all the other hosting companies.
He saw that others were better than he was, and would rank higher on "top 10″ lists. He didn't like that one bit! (Nevermind that the "top 10″ list was fake; that didn't matter to him!)
Improving his services would have meant spending money, and he wouldn't stand for that. So one day he came up with a sly plan. If he wouldn't improve, maybe he could make the others worse!?
So he borrowed some money from friends — he wouldn't spend his own of course! — and proceeded to buy them all out. One by one they fell, until the majority of the "top 10″ were his. To keep the commoners from knowing what he had done, he kept the old brand names to hide his identity. So when a commoner left a host, odds are that they would "switch hosts" to another of his brands on the top 10 list.
The profit rolled in, and he and his friends were happy as can be, having rigged the system in their favor. And they lived happily ever after — even though nobody else did.
That's essentially the origin story of Endurance International Group (EIG).
If you find this article interesting, please share it with others, using these links:
And if you've found our site to be as helpful as a magazine, book or class, then consider a small
donation
to support
what we do
here. Or sign up as a
Premium Member
for only $20. Thanks!
EIG: Equity Owned, Own It All!
Endurance is a corporation that's owned by equity partners, the folks that are often referred to as 'vulture capitalists' in the media, and for good reason. Unlike traditional businesses that exist to provide good products or services, businesses like this only exist to make profit. Everything else is immaterial — customers, employees, quality of goods, etc. And in order to always profit in the hosting industry, they cut corners — overloading servers, inferior datacenters, etc.
They try to spin decisions in their favor — such as the "upgrade" of Hostgator — but often are being dishonest with the customers. If you have tech knowledge, you'll quickly see that some of their shenanigans is aimed at stuffing more people on servers, and doing whatever it takes to maximize the profit.
According to conversations I've had, EIG management has flat-out told hosts that they want to own every host on those fake "top 10″ lists online. They wants all the customers for themselves. That's the goal. In the early days, they bought what they could afford. Now that EIG is equity-backed, they can go after the big "top 10″ hosts. That's what happened to Hostgator — Brent got $225 million USD, and I can't I blame him.
But some hosts have rejected EIG's advances. If you needing a good Hostgator alternative, and want to avoid the horrors of an EIG migration, then these are the ones that you should use:
Alternatives for: shared, managed VPS (cloud), managed dedicated
Back in 2013, at the same time that Hostgator was being plundered, Siteground was improving. They moved away from a generic "unlimited everything" type hosting, with draconian limitations in a ToS (as used by EIG brands), and instead embraced a business model that was more transparent, friendly and fair. SiteGround began to focus on the type of modern hosting plans you'd expect from a quality company in the 2010s.
Siteground is also not likely to be acquired by EIG. Bizland/Endurance has always targeted USA (and sometimes, rarely, Canadian) companies for acquisition. Although Siteground is USA-based, in terms of the hosting and servers, it's European owned (Bulgaria).
Alternatives for: shared (business), reseller, managed VPS, managed dedicated
InMotion has always been a decent host that keeps away from controversy and drama. You rarely read about them — but when you do, it's something good. They simply deliver what they promise.
According to InMotion employees, owner/founder/CEO Sunil Saxena is no friend of Endurance International Group, and would rather see his company implode than to give it over to the likes of EIG. And in 2016 interviews he's given online, you can readily see his disgust with how EIG has destroyed the livelihood of customers that had relied on them for service.
InMotion also has a sister brand, WebhostingHub, aimed at hosting newbies, only offering low-cost shared plans.
Alternatives for: shared, reseller, unmanaged or managed VPS, unmanaged or managed dedicated
Namecheap has grown so large in past years that EIG probably couldn't afford them if it tried. That's good news for customers.
Matt Russell, the VP of hosting at Namecheap, participates online and gets in the trenches with the customers. He's always soliciting their feedback and tweaking the services to make them better. I've seen him in forums in several places online, doling out advice and genuinely trying to help others. People that only care about profit don't do that!
And Namecheap is the only exception to the rule to "never buy your hosting from a registrar".
R.I.P. – Site5, Arvixe
When this editorial was written in 2013, our top two suggestions for Hostgator/EIG alternatives were Arvixe and Site5. But sadly, both Arvixe and Site5 were acquired by EIG. Arvixe fell first, in October 2014. And Site5 was next, in May 2015.
Contrary to popular belief
Arvixe was actually partially (majority?) owned by an equity firm, not Arvand Sabetian (the founder).
EIG already owned a 50% stake in Site5 due to the Hostgator deal. Brent Oxley had owned a 50% (non-controlling?) share in the operation, and the $225M deal forced him to divest himself from all hosting — Hostgator, A Small Orange, Site5, and anything else. It's worth noting that the former Site5 owner Ben Welch-Bolen was also a former pre-EIG Hostgator exec. Sometimes business is incestuous! (Originally, it was reported that Ben bought out Brent, but that was not the case; I was misled.)
Although unconfirmed, it's believed that the sale of these two companies was beyond the control of their then owners. That's just what happens in business, when you don't 100% control your own companies. Pressure mounts, and hostile takeover can ensue.
We lost two really good EIG alternatives.
Conclusion to Part 2
If folks would get away from those fake "top 10″ lists, we wouldn't be in this mess in the first place. EIG's scam is to trick you into using one of their 50+ brands, and by tempting you with special offers. Like the drug commercials from the 1980s, just say no! Find yourself a good non-EIG host.
If the above hosts — SiteGround, InMotion, and Namecheap — don't appeal to you, feel free to ask questions in our forum. Unlike all those fake sites online, we'll help you with locating the right host in an unbiased way.
As an added benefit, unlike Hostgator, our suggested hosts offer more than just shared hosting — and they've gotten good at it. Yes, HG may have offered VPS and dedicated servers, but it was overpriced and underpowered. It was a "me too" offer from them. The above suggested hosts have modern Xen and cloud architecture VPS systems, and powerful dedicated servers. That outdated turtle of a server that you had at HostGator needed to go!
Next up: We know who EIG is, and who to use as a Hostgator replacement. But what about those other "top 10″ hosts that EIG didn't get to yet?
Read more:
Have comments or feedback? — Be sure to share your thoughts in this forum post.
If you find this article interesting, please share it with others, using these links:
And if you've found our site to be as helpful as a magazine, book or class, then consider a small
donation
to support
what we do
here. Or sign up as a
Premium Member
for only $20. Thanks!
Copyright Notice: All guides, articles and editorials found on digitalFAQ.com are copyright by The Digital FAQ and/or the respective authors. Articles may not be copied, borrowed, full-quoted or reproduced in any manner, online or in print, which includes blogs and forums, without the written email consent of Site Staff (which may or may not be given, for free or fee). Know that digitalFAQ.com staff does routinely monitor online plagiarism, and we do send takedown notices to site admins and/or web hosts (DMCA et al legal actions) as is necessary. If you would like for others to read articles found on The Digital FAQ, simply link to our content. (Note: Printouts for personal use is specifically allowed.)