Quer adicionar legendas aos seus VCDs, SVCDs e as doenças cardiovasculares isquêmicas — incluindo KVCDs e SKVCDs — siga este guia rápido. O guia requer o freeware ferramentas SubRip e WinSubMux.
Como Rip e Adicionar Legendas
Pra começar, "ripe" o DVD normalmente (eu uso o SmartRipper 2.41). Depois, pra ripar as legendas eu uso o SubRip. Escolha o IFO, VOBs, e linguagem apropriados. Verifique se "Save SubPictures As BMP" está marcado.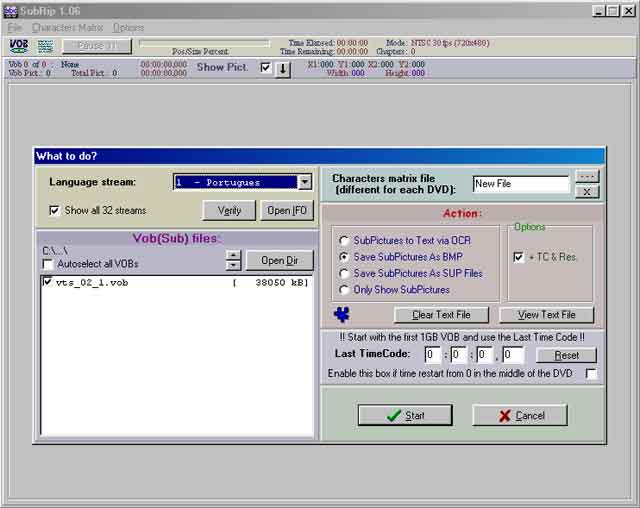 Clique em "Start" e informe o diretório para salvar os bitmaps e um nome "raiz" para os bitmaps. Por exemplo eu nomeei de "trailer" então os arquivos se chamarão "trailer00001.bmp", "trailer00002.bmp", etc.
Agora, escolha as cores do bitmap. Se desejar use um dos presets. Se "Show Pict." estiver marcado, você pode visualizar sua escolha além de confirmar que a linguagem está correta.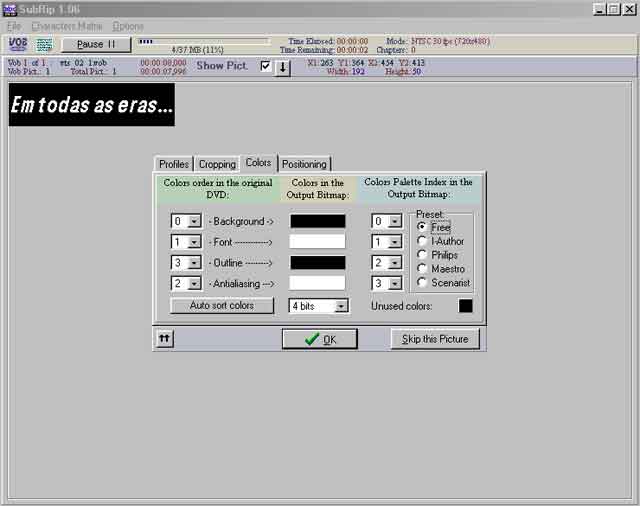 Algum tempo depois... quando a ripagem estiver completa, selecione "Output Format | Set Output Format".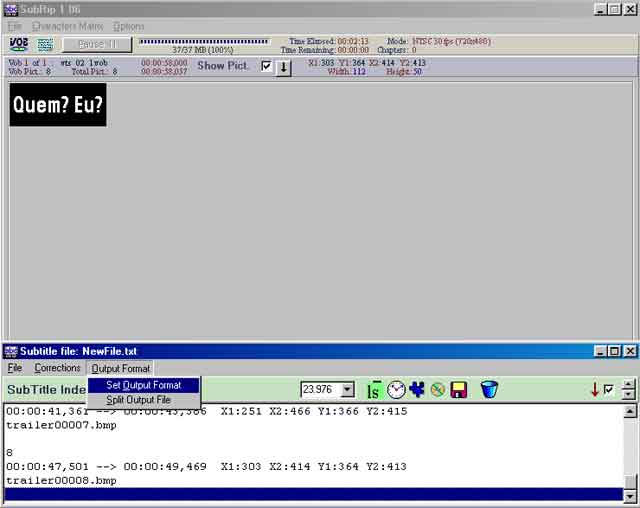 Selecione "Philips SVCD Designer (*.sub)". Deixe "Use colors from bitmap" marcado, e ignore a caixa FrameRate e o aviso sobre bitmaps de 4 bits.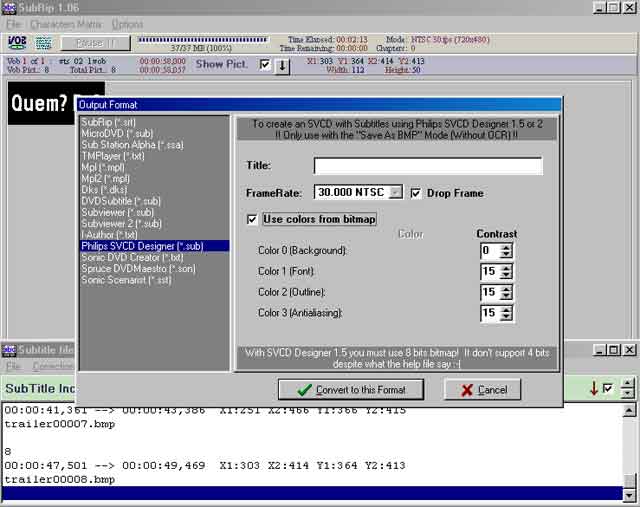 Aí, "File | Save As" para salvar seu arquivo .sub.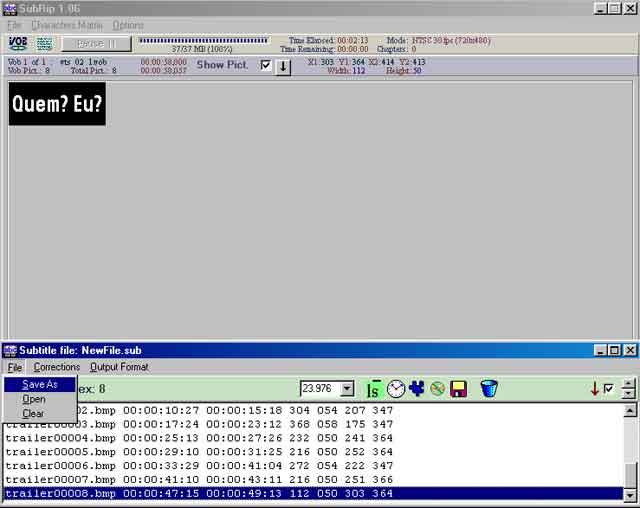 O arquivo .sub é neste formato: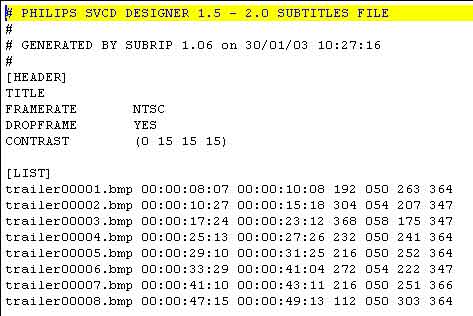 Apague TUDO menos as linhas com os .bmp e salve. É importante! Se esquecer dá um erro no WinSubMux depois..

Examine o diretório onde os bitmaps foram salvos e escreva quantos bytes eles ocupam. Você vai precisar informar este valor pro MovieStacker ou FitCD pra calcular o tamanho desejado / bitrate do vídeo.
Codifique vídeo e áudio normalmente. Multiplexe como SVCD.
Abra o WinSubMux. "Input MPEG file" é o arquivo que você multiplexou no passo anterior. "Stream #0" é o arquivo .sub "limpo" (apenas com as linhas de .bmp). Clique em "Load All". "Time adjustment" é útil se você tiver dividido o filme em 2 CDs quando multiplexou. Selecione o tipo de legenda que funciona no seu player (CVDs or SVCDs).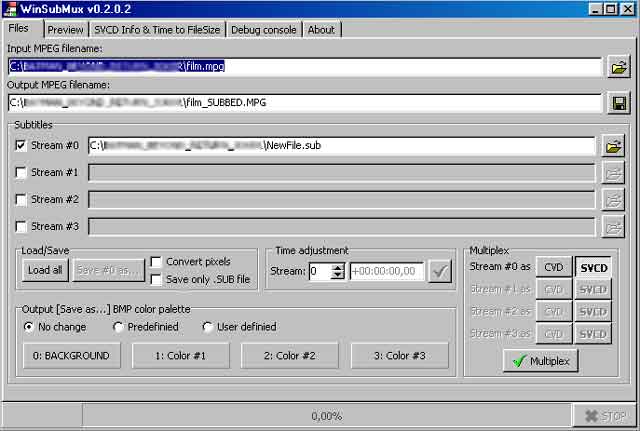 No tab de preview você pode carregar o .d2v e visualizar o resultado.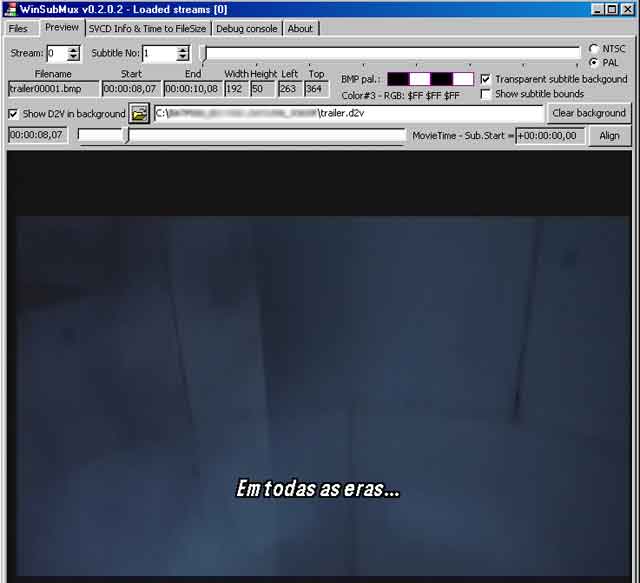 De volta ao tab de files clique em "Multiplex" e espere acabar.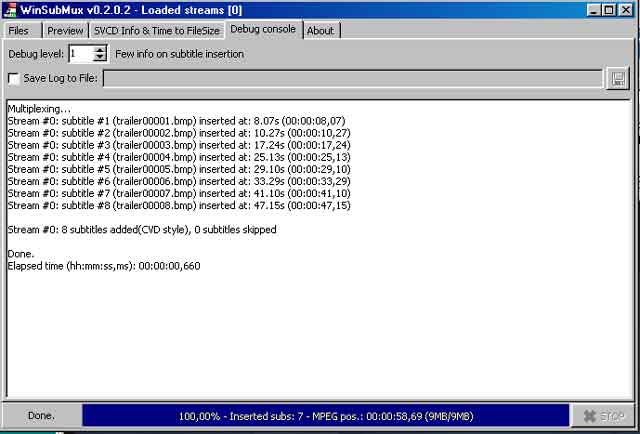 Use o VCDEasy para queimar o CD como SVCD. O VCDEasy reconhece o stream de legendas no arquivo *SUBBED.mpg (OGT 0 in the picture).
"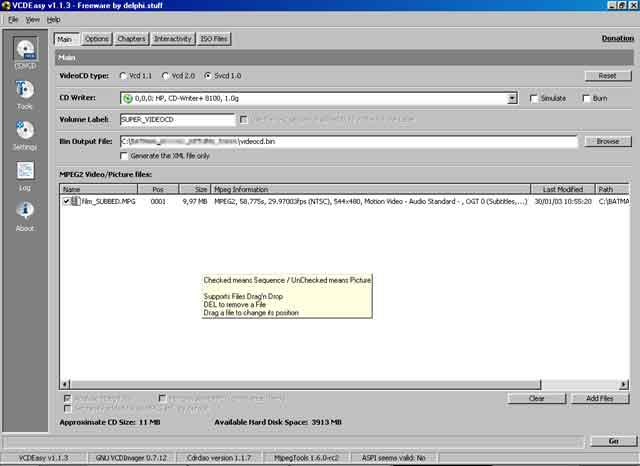 Adicione os capítulos, etc. e queime. repare novamente que o VCDEasy reconhece as legendas ("Assuming CVD-style subtitles for data...").
"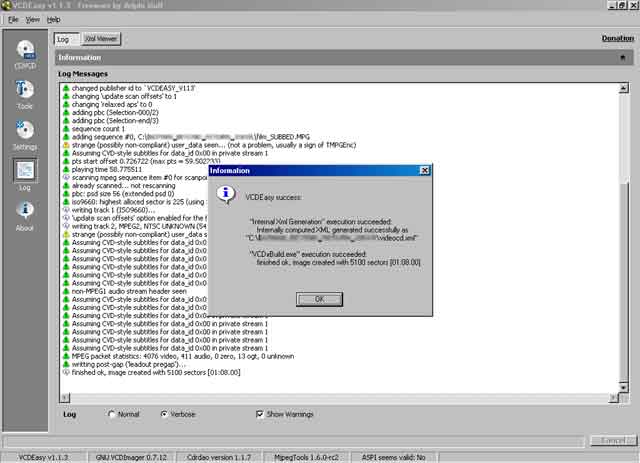 Se você multiplexou as legendas como legendas SVCD esta tela é ligeiramente diferente e mostra "subtitles detect for channel...".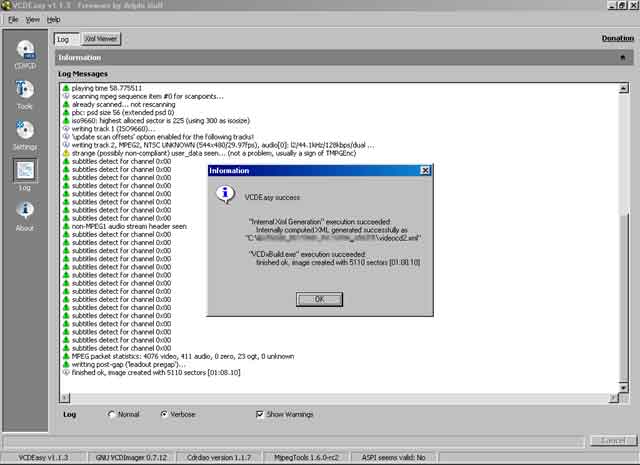 If this article/guide is as helpful as a magazine or book, then consider a small donation to support what we do here. Or sign up as a Premium Member for only $20. We manually migrated several forums to The Digital FAQ Archives, thus rescuing these sites from online oblivion. The page you're reading now might have been lost, had we not saved it! Your donation goes to the upkeep of this information, as well as our ability to preserve future sites. Thanks!