09-30-2011, 10:17 AM
Site Staff | Video

Join Date: Dec 2002

Posts: 12,645

Thanked 2,323 Times in 1,981 Posts
This is a pretty nice computer for only $400 !!

HP Pavilion p6730f
Core i3-550 Dual-Core 3.2GHz
6GB ram
1.5TB hdd
DVD±RW DL
Windows 7 Home Premium
w/802.11n
http://www.geeks.com/details.asp?Inv...TV3200_30sep11
Your Price:
$399.99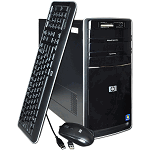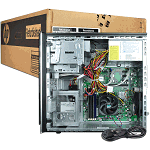 Quote:
Features/Specifications:

HP Pavilion p6730f Core i3-550 3.2 GHz Desktop PC

General Features:
Black Mid-tower ATX chassis
Microsoft Windows 7 Home Premium 64-bit pre-installed w/CoA
Intel Core i3-550 3.2 GHz dual-core processor
4 MB Intel Smart Cache, Intel® Hyper-Threading Technology, Intel® Flexible Display Interface (Intel® FDI), Intel® Clear Video HD Technology, Dual Display Capable, Intel® Virtualization Technology (VT-x), Intel® 64, Idle States, Enhanced Intel SpeedStep® Technology, Execute Disable Bit
Intel H57 chipset
6 GB DDR3 RAM
1.5 TB Serial ATA hard drive
DVD±RW DL Serial ATA Drive w/LightScribe
Integrated Intel HD Graphics
Integrated audio
Integrated 10/100/1000 Fast Ethernet LAN
Built-in Digital Media Reader (15-in-1)
250W ATX power supply
USB keyboard & USB mouse included

Supported Media:
Compact Flash I
Compact Flash II
IBM Microdrive (MD)
Memory Stick (MS)
Memory Stick Duo (Duo)
Memory Stick Pro (PRO)
Memory Stick Pro Duo (Pro Duo)
MultiMediaCard (MMC)
MultiMediaCard Mobile (MMC mobile)
MultiMediaCard Plus (MMC plus)
Reduced size MultiMediaCard (RS-MMC)
Secure Digital (SD)
Secure Digital miniSD (Mini)
Smart Media
xD Picture Card (xD)

Motherboard Features:
Four (4) 240-pin DDR3 DIMM slots (three occupied)
One (1) PCI Express x16 slot
Three (3) PCI Express x1 slots
One (1) MiniCard slot (occupied)
Four (4) Serial ATA ports (two occupied)

Front I/O Ports:
Two (2) USB 2.0 ports
One (1) Audio in Microphone 3.5 mm jack
One (1) Audio out Headphone 3.5 mm jack

Rear I/O Ports:
Six (6) USB 2.0 ports
One (1) 6-pin 1394 Firewire port
One (1) RJ-45 Ethernet jack
One (1) 15-pin VGA port
One (1) DVI-D port
One (1) Optical audio out jack
Six (6) Audio out 3.5 mm jack

Case Features:
Two (2) 5.25-inch external drive bays (one occupied)
One (1) 3.5-inch external drive bay
Two (2) 3.5-inch internal drive bays (one occupied)
250-watt power supply (Input: 100-127V, 200-240V 50/60 Hz, 6/3A)
- Save money when you shop at The Digital FAQ.
- Every day, we post some of the best online deals and coupons. We have exclusive offers that you won't find anywhere else!
- Did this site help you? Then become a Premium Member and support what we do!