This week's issue was found on the site of Media Transfer Plus (Houston, Texas) at
http://mediatransferplus.com
Screen capture from 4/11/2010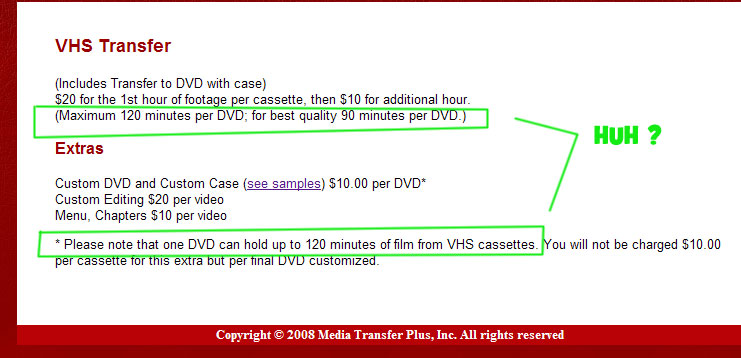 Our analysis and response:
Quality is generally determined by a lack of digital video artifacts (digital noise), and higher bit rates prevent artifacts.
A DVD is also not a VHS tape -- the length of content is not determined in minutes, but by the bitrate. (Let's also forget all this modes/minutes non-sense, that's typical amateur speak. "Minutes or SP/LP/EP/etc modes, as it applies to recording a DVD, is an artificial terminology that was created for consumers to ease the transition from VHS to DVD. Devices that record in minutes/modes are hardware limited devices, unlike professional gear that caters to the needs of the client or content.)
This is a simple equation:
Length of material
x
bitrate
=
filesize
Filesize must be at or under ~4.38GB to fit DVD-R/DVD+R, or under ~7.95GB to fit DVD+R DL
If I max out the video bit-rate of a DVD-Video MPEG-2, it's going to be closer to
60 minutes
for a single-layer disc, using AC3 Dolby Digital audio compression. (For all you non-techs, "single layer" is plain DVD-R or DVD+R, the "4.7Gb" or "120 minute" kind. A normal SL DVD-R/DVD+R holds 4.38GB of data.) Even if this company claims to use DVD+R DL (double layer media), their numbers are still off. A DL discs holds slightly less than double the content, maybe 105-110 minutes at a truly "max quality" spec.
In fact, depending on content and the quality of the hardware and software in use, it's possible to put 3-4 hours on a disc, and still have it look excellent. Furthermore,
a 3-hour Half D1 disc can be better quality than a 2-hour Full D1 disc
, as the bit rate allocation is far more saturated at the half setting. And Half D1 is often quite adequate for the detail held in a average quality VHS tape.
That they're even counting video in "minutes" suggests that they might be using ordinary consumer-grade DVD recorders, or some other type of template-driven or hardware-limited system, and not professional equipment. This is something to check on before considering any service. Why pay somebody else for a service when you could buy the same consumer equipment and get the same potentially mediocre consumer-grade results?
Also...

This counters most widely-accepted research and information on the topic of hard drives. A hard drive is mechanical, and the mechanical parts fail. While it is a good idea to keep additional backups of data on a hard drive, to say that it "extends the lifespan of your media" is misinformation. That quote doesn't even make sense, it's techie Jabberwocky. How can a disk extend a disc?
Most data shows hard drives tend to die in 5-10 years, whereas a good recordable DVD has an estimated lifespan well into the 25-75 year range. So how can an average 10-year (at best!) disk "extend the lifespan" of a average 25-year (at worst) disc? Google, Verbatim, NIST, OSTA and LOC all have publicly available materials on the topic of media longevity, from their research.
About these pages:
Remember that these posts are made for consumer awareness of misinformation, myth, propaganda or other questionable information/data that has appeared on sites (often for video conversion services) that we've seen online. Sites that are found to have misinformation, myth or propaganda will be listed in our
Video Service Hall of Shame
.
Thanks.