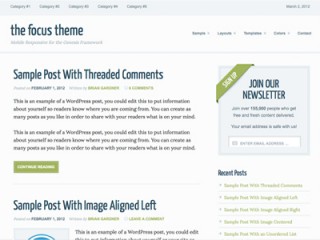 Given all of the bragging about what the Genesis framework is, and how it supposedly makes a web designer's life easier, it's odd how any and all code samples have been left out.
Notice that you are never shown any code. Even in the forum, the code is rarely shown. It's just another example of how StudioPress is dishonest with its buyers and potential buyers; it's dishonesty by omission.
As was mentioned on the previous editorial, the best part of WordPress — the reason it got so popular — was that it separated design from function from content. Yet StudioPress found a way to re-merge function and design, and made it difficult/impossible in the process.
Below you'll find several samples of the current StudioPress themes, compared to the Revolution/StudioPress themes of yesteryear, as well as other current themes from other authors. So before you make the mistake of buying it, ask yourself this: Is this really want I want to edit? Because honestly, it's almost easier to just write a theme from scratch! [Read more]