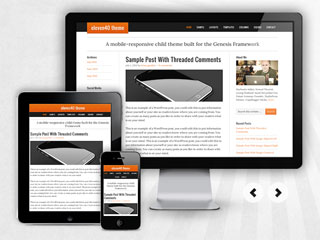 For many years, StudioPress — formerly Revolution Themes — was one of the most customizable high quality themes around. You could download it, alter some PHP, HTML and CSS real quick, and have it online that same day. Other premium WordPress themes were a distant second place, and free themes were a joke by comparison. Brian Gardner, the lead developer and founder of StudioPress, had made an excellent product.
But that didn't last. Along came the "Genesis framework" and made it complicated.
Over the past two years, StudioPress has gone from an easy to use/customize theme, to one that is almost impossible to edit. Even the most experienced and savvy WordPress developer tends to be confused and frustrated by what it's become. Something as simple as making changes to the footer text now requires a special "Genesis" plugin!
Here's 4 reasons why StudioPress should be avoided. [Read more]

Way back in 2007 — over 6 years ago — I started to develop WordPress sites. At that time, most people still didn't know what WordPress was.
Those that did would generally argue that it was "just a blog" and "not a CMS", and would condescend both it and its users. It was an ugly era for WordPress and its users.
At the time, I was also learning PHP and CSS, something I had been putting off for years. Because I've been doing HTML since the 90s, learning it wasn't too hard, but there was still a learning curve.
So like most people, I ran to Google to do some free research. That's where I met Brian Gardner. This is the origin story of StudioPress, before it turned into a lousy theme. [Read more]
Redirect.

Forwards to new guide page.

Forwards to new guide page.

To most people, the internet represents the information age — an era of communication enlightenment. However, it's also created a communication plague that has allowed the proliferation of myths, conspiracy theories, scams, and lies. And most of them were harder to do pre-internet.
For example, it's pretty hard to fake being a Tom from Texas, when you sound more like an Apu from the Simpsons, or look like a Chen from China. Yet Tom from Texas is how outsourced support desk techs are passed off to customers. (And it's not like we're really all that fooled — it's easy to see when somebody writes with ESL skills that makes Google Translate read like a literary scholar.)
And it's not just the hosts that are a problem — they have accomplices! One reason so many people find bad hosts is because many large hosts have essentially bribed unethical website owners with large sums of money. [Read more]