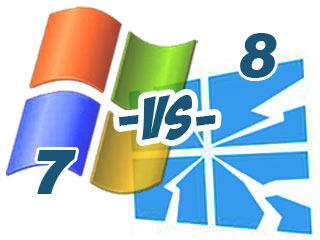 There have been a lot of advertisements for Windows 8 on television and in magazines lately, showing off the new features of the OS. Microsoft really wants you to upgrade, and is lobbying hard for you to do it. While I admit it looks a bit fancy, I needed to know how it compared to the previous versions of Windows. The answer is not so good, I'm afraid.
Windows 8 has left behind key features of its previous versions in favor of a new flamboyant tablet-style interface that looks out of place on a desktop, and performs even worse. They've essentially gutted Windows. Everything good Microsoft has done — not just for Windows, but for computing in general — has been thrown away. No more legacy support. No more integration. Forced connections to the Internet.
While techie geeks will love it, businesses users and serious user will not. And that includes videographers. [Read more]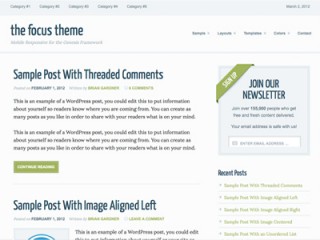 Given all of the bragging about what the Genesis framework is, and how it supposedly makes a web designer's life easier, it's odd how any and all code samples have been left out.
Notice that you are never shown any code. Even in the forum, the code is rarely shown. It's just another example of how StudioPress is dishonest with its buyers and potential buyers; it's dishonesty by omission.
As was mentioned on the previous editorial, the best part of WordPress — the reason it got so popular — was that it separated design from function from content. Yet StudioPress found a way to re-merge function and design, and made it difficult/impossible in the process.
Below you'll find several samples of the current StudioPress themes, compared to the Revolution/StudioPress themes of yesteryear, as well as other current themes from other authors. So before you make the mistake of buying it, ask yourself this: Is this really want I want to edit? Because honestly, it's almost easier to just write a theme from scratch! [Read more]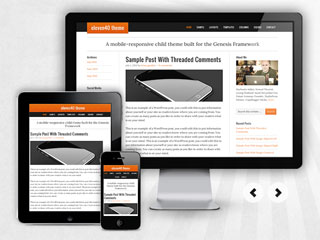 For many years, StudioPress — formerly Revolution Themes — was one of the most customizable high quality themes around. You could download it, alter some PHP, HTML and CSS real quick, and have it online that same day. Other premium WordPress themes were a distant second place, and free themes were a joke by comparison. Brian Gardner, the lead developer and founder of StudioPress, had made an excellent product.
But that didn't last. Along came the "Genesis framework" and made it complicated.
Over the past two years, StudioPress has gone from an easy to use/customize theme, to one that is almost impossible to edit. Even the most experienced and savvy WordPress developer tends to be confused and frustrated by what it's become. Something as simple as making changes to the footer text now requires a special "Genesis" plugin!
Here's 4 reasons why StudioPress should be avoided. [Read more]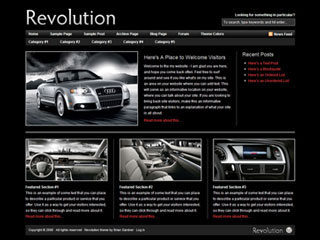 Way back in 2007 — over 6 years ago — I started to develop WordPress sites. At that time, most people still didn't know what WordPress was.
Those that did would generally argue that it was "just a blog" and "not a CMS", and would condescend both it and its users. It was an ugly era for WordPress and its users.
At the time, I was also learning PHP and CSS, something I had been putting off for years. Because I've been doing HTML since the 90s, learning it wasn't too hard, but there was still a learning curve.
So like most people, I ran to Google to do some free research. That's where I met Brian Gardner. This is the origin story of StudioPress, before it turned into a lousy theme. [Read more]

To most people, the internet represents the information age — an era of communication enlightenment. However, it's also created a communication plague that has allowed the proliferation of myths, conspiracy theories, scams, and lies. And most of them were harder to do pre-internet.
For example, it's pretty hard to fake being a Tom from Texas, when you sound more like an Apu from the Simpsons, or look like a Chen from China. Yet Tom from Texas is how outsourced support desk techs are passed off to customers. (And it's not like we're really all that fooled — it's easy to see when somebody writes with ESL skills that makes Google Translate read like a literary scholar.)
And it's not just the hosts that are a problem — they have accomplices! One reason so many people find bad hosts is because many large hosts have essentially bribed unethical website owners with large sums of money. [Read more]

One of the most aggravating aspects of having a website is dealing with a web host. Excessive downtime and slow servers can tank your search engine rankings (and aggravate your users), while slow or gibberish tech support adds stress to your day.
But this isn't caused by random bad luck. Poor web hosting service is a direct result of having a poor business model (or no business model), de facto lying, or cheaping out — or a combination thereof.
Avoiding bad hosts is as easy as understanding how and why bad hosts exist, as well as learning how to spot the tell-tale signs of a potentially unpleasant hosting experience. Part One of this three-part editorial series examines the issues of misrepresentation and the lack of industry oversight. [Read more]